Welcome to page 1 of the Wild Turkey Photo Album
Clicking on any of the photos below will call up a larger, more detailed photo.
   My friend and winter time neighbor, Jim (left) and my Brother-In-Law, Sean with their birds
   and my little "Jake" in the middle. But that was on sat. the big one was the prior tues.
   The Tom on the left (In the photo above) was taken on private land near Mt. Nebo WMA in Garrett Co.MD.
 
   Remember, a bird in the hand is worth...well, a bird I guess!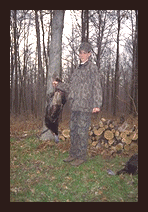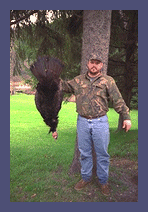 Read my short story about this hunt by clicking here.
This big Tom was taken on opening day (April 18, 1995) near Deep Creek Lake MD. on private land off  Rt. 495
When I'm not hunting "Gobblers" in Western MD. I sometimes go to Montgomery Co. and hunt them on McKee-Beshers WMA off River Rd. near Potomac MD. right on the Potomac River.


Page 1, 2, 3, 4, 5, 6, 7, 8
Cover                              Page 2