Wild Turkey Photo Album Page 5
Clicking on any of the photos below will call up a larger, more detailed photo.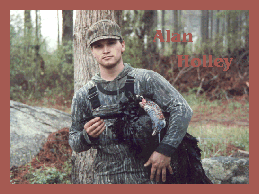 Alan Holley, march 15, 1997. Opening day, for S.C..
Bobby Wheatley, from Team B.G.O. (Blevins Gap Outdoors) with a very fine Gobbler.
"My ten year old's first turkey. It was shot on May 23 at 6:30am. The deed was done in New Hampshire in a field by a rock! The bird weighed in at 17 and 1/2 pounds and carried a 5 and 5/16" beard. It's not big by some standards but a true trophy in the eyes of my son and myself."
- Sincerely, Roger Bellerose
Way to go Scott! Keep up the good work.